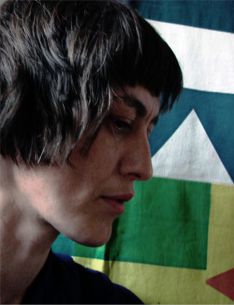 As a child I eloped a world of jeans and sweatshirts by disappearing into my grandmother's dressing room. This place of pearl embroided dresses from her youth, carefully folded needlework and the most beautiful silk scarfs was pure adventure. I never quite came out again.
I am born in Denmark 1977. I studied European ethnology and worked on a weavery in Turkey. Educated as a textile designer from The Royal Danish Acedemy, School of design in 2008.
Despite my deep admiration for textile craftsmanship, which also is the tradition I am trained in, my main ambition is to separate the visual expressions in needlework from its technique.
Interpreting the history of a material culture, where needlework bares a remembrance of an aesthetic culture, which has evolved and developed under completely different conditions than fine art.
I want to tell stories reaching backwards in time, while I explore the potential of modern production technology.
Work of hand or spirit of hand.
My work begins with the study of a textile field, ethnic or historic. Driven by a curiosity that starts, when textiles goes further than pure beauty and function.
I try to understand what seems unfamiliar, through a long sketching process, by making samples of textures, colors and the progress of figures. Getting beneath the tidy arranged treads and getting it into my own hands.
Then transforming my material digital, all the way down to pixel level, to liberate it from its origins and create new contexts.
That digital process is my needlework. My needle and thread, by which I gather fragments of color and texture into large collages. I print the finished collages on various fabric qualities to be mounted directly on the wall either by poles or hidden mounting.
Stories about power, war, human suffering and all of Gods glory.
In my series "Een Kobenhavn" I have found inspiration in the oriental tradition. The oriental carpet strikes something in people worldwide and has done it for generations despite a very cultural specific expression. I am captivated by their heavy and static imagery and have tried to step into that ornamented landscape and utter a kind of fable from their universe. Each piece from the series "Een Kobenhavn" represents one of the main themes I have found in that tradition.
The classic European tapestry uses imagery far from the stylized ornamentary in folkloristic traditions. Man, beasts and Gods frozen in a moment captivating their role in the story.
I am investigating the language, trying to get beneath those grandiose utterances, their monstrosity and liberate my own work from some of that demure respectability that often characterizes modern textiles for interior decoration.
These projects are part of my attempt to investigate the aesthetic and technological boundaries for modern textile. The gap between retold folklore and my personal expression, crafts and art.
Maj Persdatter
.